Order - Payment - Delivery Information
Orders Information
All items chosen and purchased from our on line shop are gathered in the available shopping basket. Flowers, flower arrangements, plants and plant arrangements are delivered from our shop to broad Athens area and from cooperative florists partnerships to any other destination in Greece and abroad.
Same day delivery for any order received by 16:00H local. Orders that come in later are delivered next day.
We do have the ability to deliver during "night" after 22:00H when our physical store close. Special agreement to be made for special delivery occasions (night etc.).
Night & Special Delivery Orders Terms & Conditions
*Minimum purchased item value 100,00€ (summing not applied)
*Webshop offers not valid for these instances. (offers=discounted items)
*All webshop items are surcharged by +75%. (on the initial price_not the discounted one_)
*Customer is responsible to provide courier way for delivery and pay the extra cost. (Usually Taxi Service). If not possible then we shall make efforts as to if possible deliver using our own transport vehicles. Cost will be examined.
*Customer has to pay off all costs and charges prior delivery.
*Previous contact with our shop in order to define matters such as exact destination, time etc.
Valentine's, Mother's Day and other big celebrating name days.
Guaranteed delivery for these days for all orders received until one day earlier !!! All others placed on the same celebration day are considered "open" and we do reserve the right to deliver even one day later. Deliveries start (1) "Day" earlier in order to anticipate a high order volume. Mind that due to extremely heavy schedule on such days telephone contact may not be supported. We urge all our customers to act prompt and place their orders one day in advance.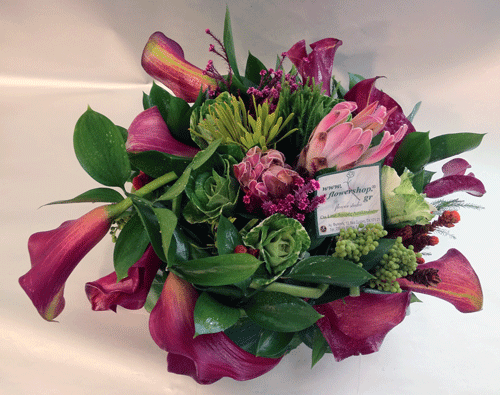 Delivery Charges - Payment Methods
No extra charge for local orders delivered to Nea Smirni. For all other destinations in Athens suburbs as well as Rest of Attica Region where we also deliver, an extra delivery charge is applied. This charge is shown during the order process when you fill in the final shipping address details, by choosing the correct State -Area from the available scroll down menu in the order form.(or click on the estimate SHIPPING COST button next to the van figure, when in shopping cart).
Delivery charges are automated and reduced as value(s) of purchased item(s) increase.
It is very wise though and we do propose our customers to contact our sales and shipping department as to examine further reduce or even zero delivery expenses. This happens only when we have the possibility to combine shipments.
Lately , due to the critical economical circumstances, we have readjusted our delivery price list charges.New, reduced, true and competitive prices that reflect to reliable and trustworthy service."Mind that nothing is free... so have an eye open when offered free delivery charges! In most cases they are included in the item's price. Meaning that at the end you get something smaller than what actually purchased.
Minimum purchase order is 10,00euro.
Orders with destination other cities of Greece and abroad have to exceed the amount of 60,00euro (net order value). In such cases simply buy items that are priced above this value. Our system will automatically charge an additional 10,00 euro handling cost, for orders with destination major Greek cities and 30,00 euro for orders with destination abroad. Special agreement (upon previous telephone contact with our shop) to be made for orders with destination not major Greek cities but other places like villages etc. in Greece.
Extra options accessories products like teddy bears, chocolates, balloons, cards etc are optional for delivery to destinations Rest of Greece and Abroad. We shall of course try with our contact florist to comply but in case they don't have availability of the above items, then the value paid for them will be added in the main ordered item's value.(thus sending more flowers etc.)
Filling all order form fields is mandatory with true information Name, Address , Telephone, etc. (especially the shipping address where name and telephone is very important).
Our company keeps the right to "deny" "refuse" an order that seems details of the sender or recipient to be incomplete or not stated. Also we keep the right to "deny" "refuse" and of course refund any payment that is not "clear" as far as it concerns where exactly does it come from and if it is or not related directly with the sender details. Contact with both parties sender and recipient is done in such cases that create the above described confusion. Privacy Policy is not overuled by this procedure.
Telephone contact prior deliveries, has to be established always !!!
Purchasing items using your Visa, Mastercard, AMEX and DINERS credit cards (of any issuer bank) proceeds automatically in totally secure bank environment of EUROBANK or PIRAEUS BANK (WINBANK) or ALPHA BANK.
EUROBANK supports and accepts VISA, MASTERCARD, MAESTRO credit cards of all banks while WINBANK supports and accepts only VISA, MAESTRO, MASTERCARD of all banks and ALPHA supports and accepts VISA, MAESTRO, MASTERCARD, DINERS & ΑΜΕΧ of all banks .
So it is up to your choice while placing your order which of the three methods of payment (all secure) you prefer. CREDIT CARD (EUROBANK) or CREDIT CARD (WINBANK) or CREDIT CARD (ALPHA).
Telephone - off line - bank payment - payment orders are accepted.
Telephone credit card payment orders , call us direct 0030-210-9319884 having available the credit card nr, expiration date & cvv nr.
In these cases you will have to:
• Telephone (bank payment) - Bank payment e-mail us [email protected]_ the bank deposit copy. You can find our available bank accounts if you select these payment methods during your order.
Or simply you can use one of the following bank accounts.
ALPHA BANK: 116-002101-176043 or IBAN: GR23 0140 1160 1160 0210 1176 043 BIC: CRBAGRAA
EUROBANK: 0026-0033-25-0100580385 or IBAN: GR86 0260 0330 0002 5010 0580 385 BIC: ERBKGRAA
PIRAEUS BANK: 6727-113839-642 or IBAN: GR34 0171 7270 0067 2711 3839 642 BIC: PIRBGRAA
ALPHA BANK: 365002101103344 or IBAN: GR39 0140 3650 3650 0210 1103 344 BIC: CRBAGRAA
Account holder name KOLOVOS DIMITRIOS
NATIONAL BANK OF GREECE : GR81 0110 1530 0000 1537 9495 532 BIC: ETHNGRAA
Account holder name MAVROSKOTI ELEFTHERIA
After that please e-mail us a notification of the deposit to [email protected]
• off line (all cards) fax us (+30-210-9373155) photocopy of the credit card itself both sides with signature. Copy of the identity card or passport of the credit card holder to prove it is the same person.
• In all cases you e-mail us [email protected]_ a signed plain order form with all details which can be sent from us to you by e-mail .
Pay pal payment availability.
Confirmation e-mail shall be sent for every order submitted.
Thank you for your interest.